If you are interested in running a digital sign/slide for your club, class or organization, please click on the green "Request a Digital Slide/Upload" button. You'll find it below the tips and tricks for design. You will be taken to a web form.
Our design work is currently displayed on the digital LCD screens throughout the Kolligian Library (KL). Are you hosting a club event, have important information that may benefit our student population or promoting a student service on the UC Merced campus? We would love to help you get the word out.
The request web form will require you to do the following:
Complete all the areas with the red asterisk.

Choose who will design your slide:

"You Design Digital Slide" means you will attach your digital sign/slide to your request and it is ready to upload to our screens.

"We Design Digital Slide" means we will create the slide for you. You may attach up to 3 files to your request. If you would like to proof read and approve the DS before it is uploaded to the screens, please include that note in the "additional requirements / instructions" on the web form.

We will process your request no later than two weeks from the date of your submission and will communicate with you via email throughout the production timeline.

The size of your slide needs to be 1280 pixels (width) x 768 pixels (height) and be a .jpeg/.jpg file.

For inspiration, here are a few samples of slides we have created in the past.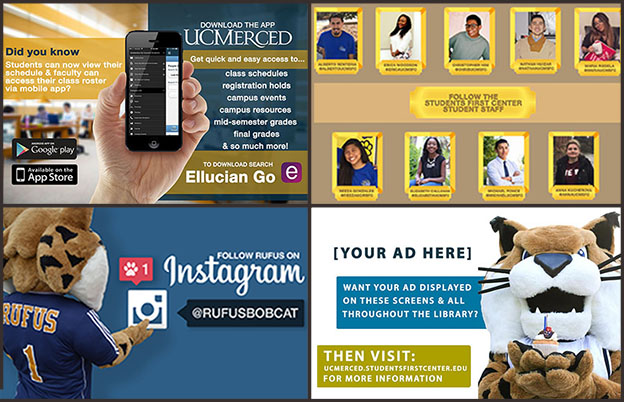 A few design tips:
Limit yourself to two or three typefaces. Too many fonts or font families can force your content to compete for attention and cause the viewer to miss the most important information on your slide.

Use a font that is easy to read and 20 point font or higher. The font size may vary if you are using a designer font. Keep in mind viewers need to be able to read your content from several feet away in order for your sign to be effective.

Be creative with color: Choose a color palette and work within the range of tones as well as complementary colors. Avoid using bold colors such as RED and MAGENTA for your text and background colors. Intense colors are difficult for our eyes to process. Enhance or adjust the colors in your slide by using contrast, filters and shadows (if you use Adobe Photoshop or a similar design program).

Keep a clean margin around all edges of your slide to ensure that your content will fall within the limits of the screen size.

Use fresh, clean and simple design: Using blank space to your advantage is a great design tip. Less text content can make a bigger impact than densely written paragraphs, text-heavy designs.

Image and text alignment has power: Deciding how to align your text and graphics can be a challenge. Left, center or right alignment depends on the fonts and images on your slide. Don't be afraid to think outside the standards of basic design and experiment with interesting alignment and spacing options.
**