Digital Signage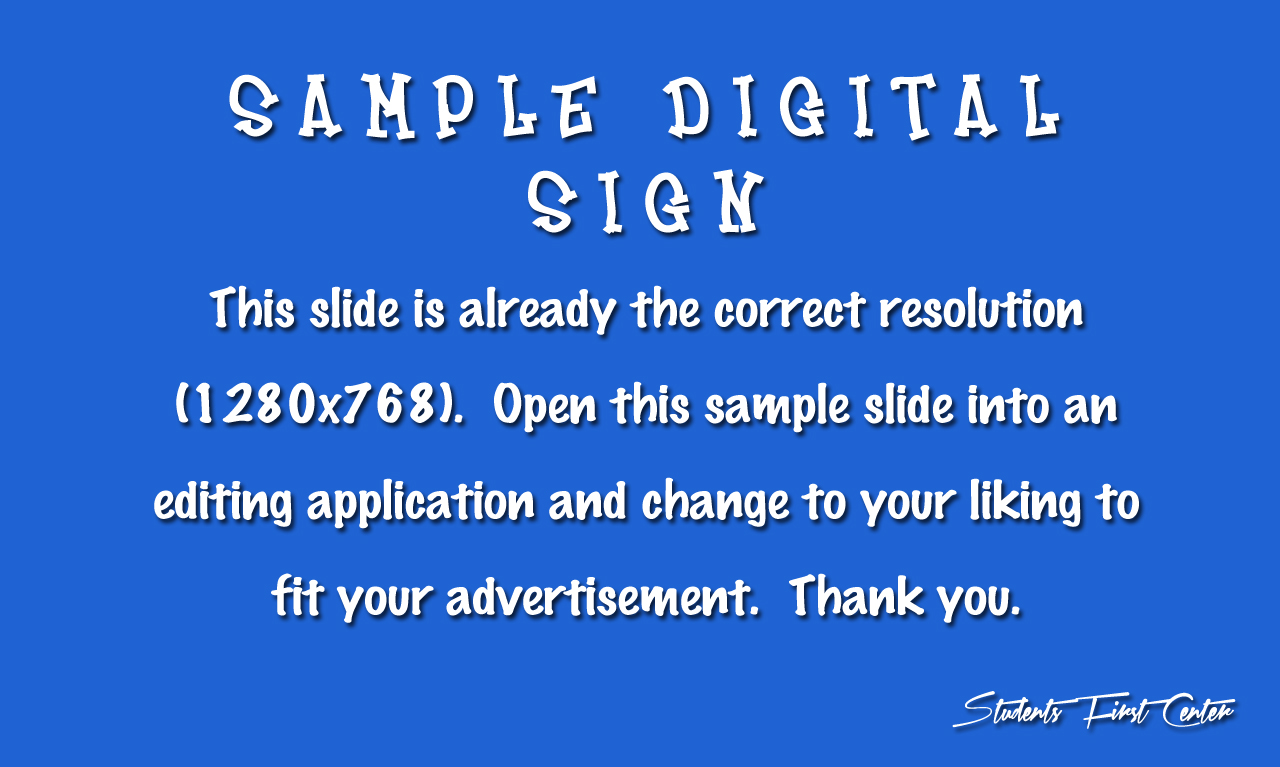 After the template pops up, right mouse click and click "Save As" to save the photo to your computer.
*** Need a digital sign designed???  Check out the services offered by Media Cats here!
Get the word out Digitally!
Have your information displayed on the LCD screens in the Students First Center and throughout Kolligian Library!  Our department currently holds a partnership established with the Library to share our digital feeds on select monitors inside the library and in the Lantern Cafe area.  If you are promoting an event, a club/organization, a unit within UC Merced, and beyond, we are here to help get the word out for you!  Digital Signage Submissions Policy and Guidelines are as follows:
For optimum viewing, submit 1280 (width) x 768 (height) pixels - .jpeg/.jpg or .png files. 
Be sure to download the DIGITAL SIGNAGE TEMPLATE from the hyperlink above.
The digital signage software also currently supports .wma, .wmv, and Powerpoint files (although no sound is able to be played at this time).
Font must be size 18 or larger
STAFF, FACULTY, & STUDENTS - Submit your documents to Carlton Stroud NO LATER than 2 weeks prior to the date(s) that you are promoting with your respective signs.  This will allow proper time for uploading and enough time for exposure to our audiences.  Late submissions with less than 2 weeks to promote will not be accepted.
Please be sure to let us know when your slide will expire.  Typically, a digital will be shown on our feeds for up to a month.  If you need them to be shown longer than one month, we will review case by case to see if the justification is present.
Our uploading dates are on Tuesdays and Fridays.  This is to allow us multiple days throughout the week to post submitted content.
Our Digital Signage Presentation can be found HERE.